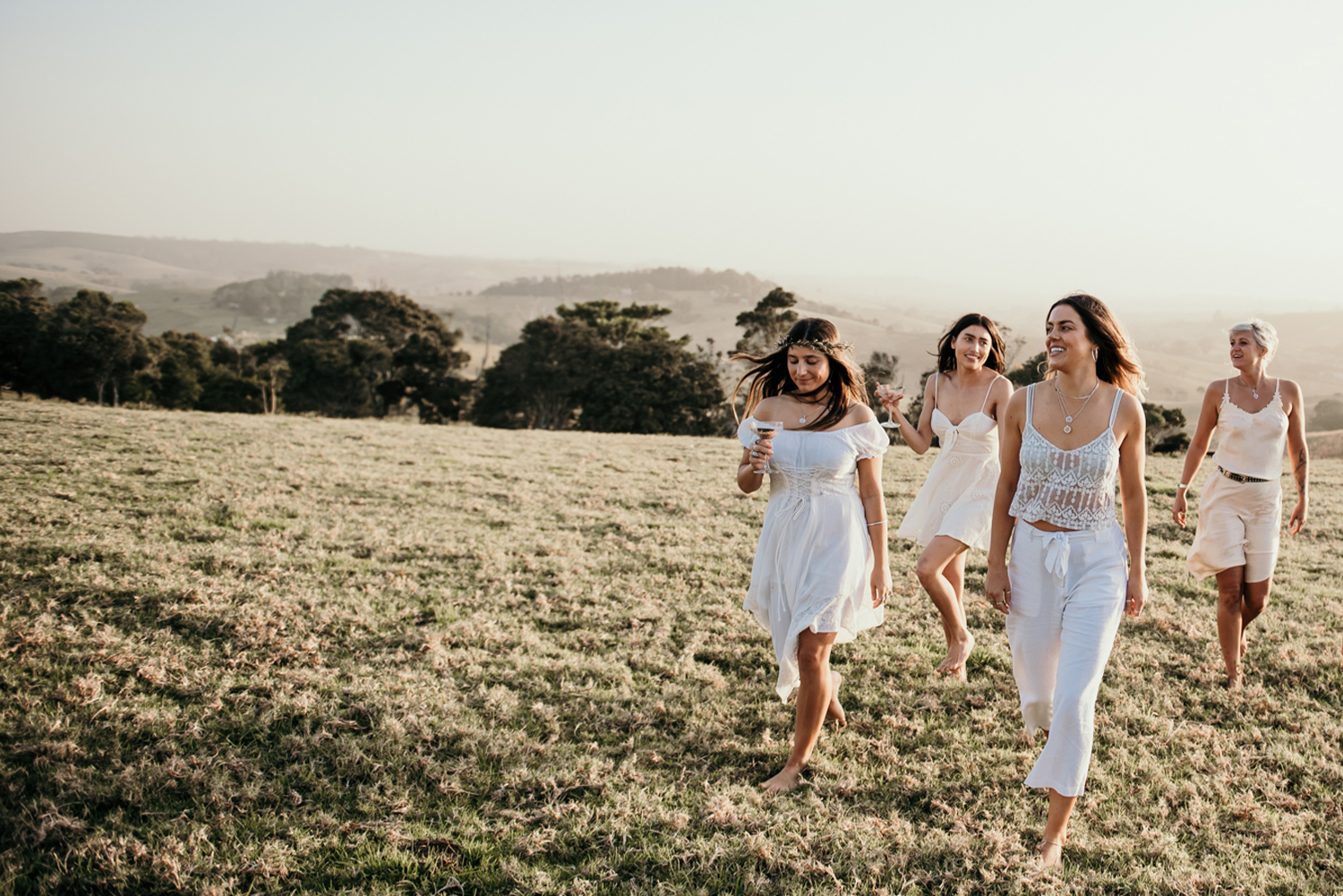 We curate the ultimate hens experience for you and your ladies

Tell us what you want. We'll listen and deliver you just that. You have total flexibility to package up the perfect day, and night, for your ultimate hens experience - just how you like it. Our job is to deliver the fun or relaxation, tastefully. Think of us as your complete hens concierge.
Our specialty? Curating a long lunch held at your accommodation or one of our private venues, beautifully styled and catered for - with optional activities throughout the day. As the evening approaches, we'll have transport organised to whisk you away into town so you can dance the night away.
venues
Invite us to your place or select one of the beautiful hinterland properties we work with in Byron Bay - exclusively yours for the day, with accommodation on offer too.
Perhaps you're interested in settling in amongst the vibrancy of town instead? Allow us to coordinate your celebrations at your choice of one of Byron Bay's best eateries or bars. We have some incredible packages available at select venues, exclusive to HENS Byron Bay.
activities
Our activity packages have been designed as optional add-ons. Whether you'd like to spend the day doing just one activity, or keen to fit in as much as possible, we'll help you book, plan and coordinate for a seamless fun-filled day.
Sunrise beach yoga followed by bit of pampering, then a long lunch spiced up with life drawing? Hell yes! Cherry-pick a handful of your favourite activities to really rev things up!
Catering
Designed to be shared. An abundant selection of local cheeses and cured meats, lavosh and homemade bread, farm-fresh fruit and nuts, dark chocolate, gourmet salads and sandwiches. Our spreads are beautifully styled on a long table with elegant platters, bowls and flowers from the market.
A more formal dining experience can be arranged upon request. Vegetarian and vegan menus available. BYO.
styling
Working to your budget, we offer additional styling to create a luxe tablescape for your picnic-esque or more formal lunch. Think rose gold cutlery, crystal-cut glassware, linen napkins, Aztec rugs and Moroccan platters.
Tip: Have an activity planned? Our items are versatile so you can enjoy extra comfort by simply transferring rugs and cushions from your lunch set-up over to your activity.
transport + other add ons
Transportation, as well as any additional services, can easily be added to your booking. We'll coordinate your group's transfer from the airport to your accommodation, followed by any desired destination throughout your stay. Some of our activities are already inclusive of transport.

For something special, be chauffeured in a Vintage Kombi or a pink 1962 EK Holden as you venture through the hinterland with your favourite music and bubbles on arrival. At the end of the day, keep the celebrations going with a trip back into town to dance the night away.
Your long lunch is BYO and set up by our team for you to enjoy total privacy throughout your day. Having said that, upon request we can provide a waiter for part of the day to assist you in cocktail making, topping up your bubbles and cleaning up across your lunch.
Want to remember the best party of your life? We work alongside a local professional photographer who can be a fly on the wall at your celebrations, capturing every moment you want to relive. This also includes an 'on the day' service, where a handful of high-quality images are sent to you on the spot so you can post to your social media in real-time!